Sepia Amer
Sepia Amer is a modern bitter which pays homage to the old French-style apéritifs of the past. With a base of roasted chicory, it is rich, dark and complex - perfect for an after-dinner drink on the patio.
Pickup currently unavailable
RECOMMENDED POUR
Sepia Bière
To enjoy Sepia Amer in traditional French fashion, be sure to try a Sephia Bière. To make your own, pour approximately 30ml of Sepia Amer into a 250ml beer glass and fill the rest of the glass with fresh, cold lager. The crisper and lighter the better. Enjoy on the patio of a café as you watch the people pass by.
Inspiration behind the product
France has long had a love affair with the classic "bitter". Bitter spirits are drunk as apéritifs, used in cocktails, or added to light lagers. Sepia Amer is an homage to this traditional French spirit, with a contemporary twist.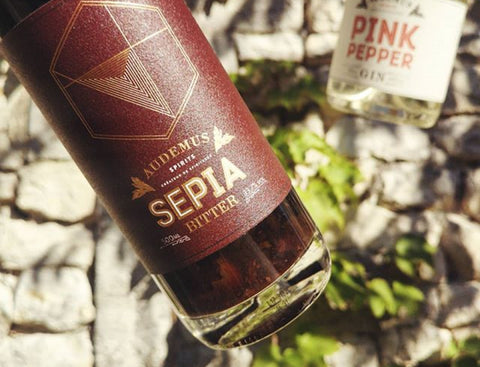 What makes it unique
Sephia Amer is made with a base of roasted chicory base that provides a well-rounded, light bitter backdrop for the rest of its ingredients. It includes a harmony of spicy Sardinian myrtle, earthy Angelica root, and a touch of fresh seasonal oranges that add a brightness to the recipe. Each flavour and aroma adds its unique personality, resulting in a complex, tense, bittersweet palate.