Pure Single Rum
🏴󠁧󠁢󠁳󠁣󠁴󠁿 Dumfries & Galloway, Scotland
An unaged pot rum distilled in Scotland from sugarcane molasses, with a bewitchingly creamy and gingery flavour profile.
Pickup currently unavailable
RECOMMENDED POUR
Daiquiri
The classic rum cocktail. Easy to make, simple but so so delicious. Ninefold Pure Single Rum shines in a daiquiri. To make your own pour 60 ml of Ninefold Pure Single Rum, 30ml of freshly squeezed lime juice and 22.5ml of simple syrup into a cocktail shaker with ice. Shake and strain into a chilled coupe glass, and enjoy!
Inspiration behind the product
Scotland isn't known for its rums - until now. Ninefold Distillery is the first - and so far only - rum distillery in southern Scotland, and expertly combines tradition with innovation to produce this gloriously balanced artisanal white rum. Using a blend of local and imported ingredients, like the Moroccan-sourced sugarcane molasses that make up the rum's base, the mixture of old and new, near and far is beautifully apparent in its flavour profile.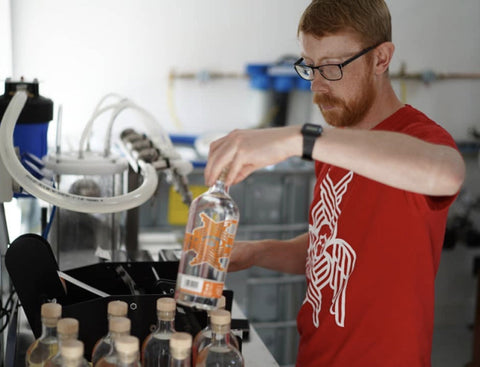 What makes it unique
Pure Single Rum is distilled in a locally-built 450 litre copper pot still, from a sugarcane molasses base. After being distilled up to 92% ABV, it's gently reduced down over the next seven days to 40%, using local Scottish water. The procedure takes an entire week, in order to best retain all of the flavour and aroma characteristics of the rum. Once it's ready, the rum is bottled and labelled on-site, without any aging process.