Kiss My Nuts
Kiss My Nuts is a bold, rich and generously spiced aperitif that is also well-suited to pairing with rich meals, and stiff cocktails, combining robust red wine with a substantial blend of nuttiness and sweet spice.
Pickup currently unavailable
RECOMMENDED POUR
Spicy Coca
To bring out Kiss My Nuts' tantalising richness, pour 50ml over cubed ice in a highball glass, along with 30ml Spiced Rum, and a healthy 100ml of Premium Tonic to lengthen and accentuate its bold character.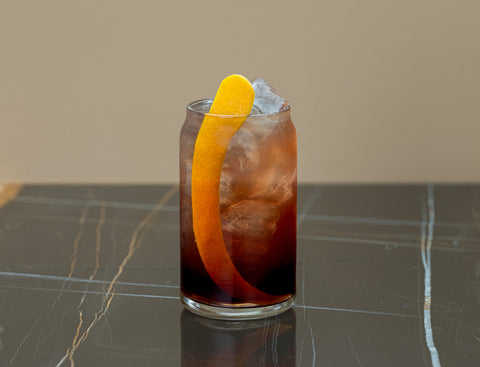 Inspiration behind the product
Kiss My Nuts' provocative naming reflects the environment in which co-creators Niels and Wouters envision this aperitif to be consumed: around a raucous dinner table with free-flowing food and drink, populated by the occasional drunk uncle. Kiss My Nuts' richly flavoured recipe, combining nuttiness and bold spice, perfectly embodies that sensation of indulgent and ribald satisfaction after a lively dinner with old friends.
What makes it unique
Kiss My Nuts uses Niels' and Wouters' careful selection process of nuts, herbs and spices to create an aperitif with a bold and rich character. Central to this flavour profile is the use of young, green walnuts, which provide the titular nuttiness in spades, as their youthfulness provides a boldness and astringency that cannot be found in the milder profiles of their more mature counterparts.