Kiss My Blackberries
Kiss My Blackberries drinks like an ode to summer in Belgium's South, using a harmonic blend of ripe blackberries, fresh white wine, refined distillates, and a touch of fennel, to create a richly, summery, berry-led aperitif.
Pickup currently unavailable
RECOMMENDED POUR
Red Square
Make yourself a summery cocktail with an assertive backbone by stirring 25ml of Kiss My Blackberries with 20ml of VSOP cognac, and 15ml of Aperol in a mixing glass over ice. Strain this into a chilled coupe glass, and garnish with a sprig of purple shiso for a cocktail that is both seasonal and substantial.
Inspiration behind the product
Kiss My Blackberries takes its inspiration from the warm climes of the Belgian South in the summer, where ripening berries and fruit burst forth from the dense bushes and shrubs that pepper the countryside. This aperitif's recipe carefully selects and blends an array of this vibrant summery produce, which ranges from juicy, ripe blackberries to the earthy and bright hints of anise.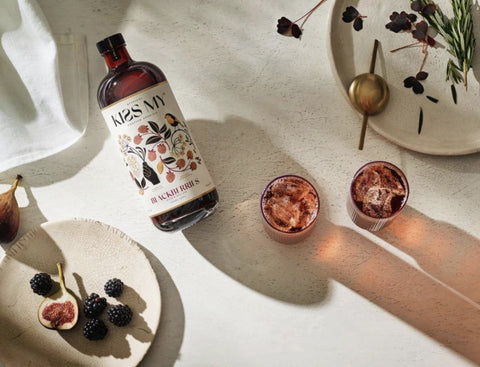 What makes it unique
Using their careful, locally sourced selection methods, brothers Niels and Wouters source only the ripest of blackberries to combine with white wine, distillates, and a dash of fennel to lift the recipe. The result is a lengthy, gentle and summery aperitif that highlights the vibrancy of summery red fruit and berries.