Erika Gin de Printemps
Erika Gin de Printemps is a floral craft gin, part of a limited series from. As a seasonal gin, it captures the essence of springtime in France in a bottle.
Pickup currently unavailable
RECOMMENDED POUR
White Lady
The White Lady is a simple, silky cocktail that highlights the delicious flavours of Erika's Gin de Printemps with an added sour touch. To make your own, add 1 egg white and a cube of ice to a cocktail shaker, and shake. This will help break up the egg and create a light frothy texture. Next, add 40ml of Gin de Printemps, 15ml of triple sec, 25ml of lemon juice and 10ml of simple syrup in a shaker. Shake all of the ingredients and strain your beautiful white lady into a chilled coupe glass.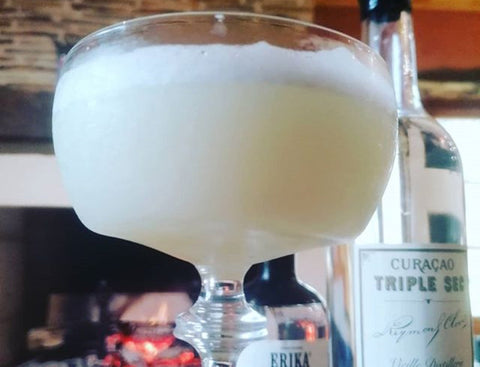 Inspiration behind the product
Gin de Printemps attempts quite literally to put springtime into a bottle. To create a perfectly fresh floral gin, Erika Spirit's creators went gathering elderflowers by hand in the countryside to be able to add them to the distillation that same day. All of their bloom and aroma is retained, and can be tasted in the final product.
What makes it unique
Elderberries are one of the first flowers to bloom in the springtime. They are a sign of new life and brighten up the fields, roads and wooded areas in the southwest. These little white elderflowers used in the creation of Gin de Printemps are picked when they're heavy with yellow pollen. This pollen is then combined with honey that comes directly from co-founder Paul's bee farm. In the final recipe, the flowers, pollen and honey capture the very essence of springtime.