Dormont Spiced
🏴󠁧󠁢󠁳󠁣󠁴󠁿 Dumfries & Galloway, Scotland
A deliciously spiced Scottish rum, naturally flavoured with aniseed, allspice, and nutmeg.
Pickup currently unavailable
RECOMMENDED POUR
Rabbit Ear Punch
Dormont Spiced rum goes wonderfully in a rum punch – one that Ninefold likes to call "Rabbit Ear Punch!" To make your own you'll need: 4 parts apple juice, 3 parts Dormont Spiced Rum, 2 parts spiced syrup (see below), 1 part freshly squeezed lemon juice.

Mix the ingredients at whatever volumes you want using the ratios above, either a single serve or for a punch bowl (or flask!), and we highly recommend warming it up at this time of year for a delightful 'mulled' rum.

Spiced Syrup: Gently warm 250ml of water over a medium heat, and stir in gradually 250ml of brown sugar until dissolved. This makes a 1:1 sugar syrup. Turn the heat off, add a few cinnamon sticks and a handful of cloves and set aside for at least 30 minutes. Strain off the spices, bottle, and it will store in the fridge for months.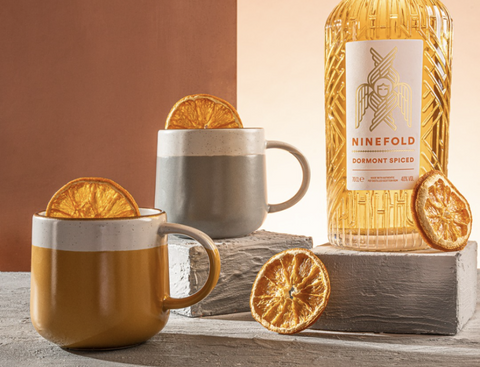 Inspiration behind the product
Dormont Spiced is the second rum from Ninefold, southern Scotland's first - and only - rum distillery. It's built from Ninefold's first rum, an unaged pure single pot rum with a sugarcane molasses base and a creamy, buttery, gingery flavour profile. Distilled in a locally-built 450 litre copper pot still to 92% ABV, the rum is reduced down over the next week using local Scottish water, to gently bring it down to 40% ABV without losing any of the flavour and aroma characteristics.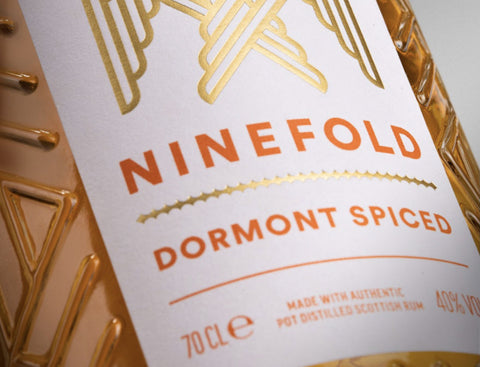 What makes it unique
Ninefold takes this exquisitely balanced rum base, and spices things up. Nutmeg, aniseed, and allspice natural flavours are blended into the rum, along with a kick of sugar and natural caramel. The spice flavours meet and mingle with the caramel and butterscotch notes of the original rum, creating a gloriously spiced, exquisitely crafted flavour profile. Along with the spice notes, you can taste elements of orange, ginger, and white pepper when sipping.