Cask Aged Pure Single Rum
🏴󠁧󠁢󠁳󠁣󠁴󠁿 Lockerbie, Scotland
An authentic small batch barrel aged Scottish rum matured at our distillery in American oak barrels. Our rum is rich, luxurious and decadent. It has a deliciously sweet, oaky flavour with notes of butterscotch, toffee, vanilla and chocolate.
Pickup currently unavailable
RECOMMENDED POUR
Mai Tai
A classic aged rum cocktail made to Trader Vic's recipe, but with Ninefold Cask Aged Pure Single Rum instead of the original Jamaican and Martinique rum blend. To make your own you'll need: 60ml Cask Aged Pure Single Rum, 30ml freshly squeezed lime juice, 15ml curacao/orange liqueur, 7.5ml orgeat, 7.5ml simple syrup.

Shake all ingredients with crushed ice and dump into a large rocks glass. The garnish is really important on this one, don't miss it out: garnish with a squeezed half a lime (saved from earlier) and a sprig of mint.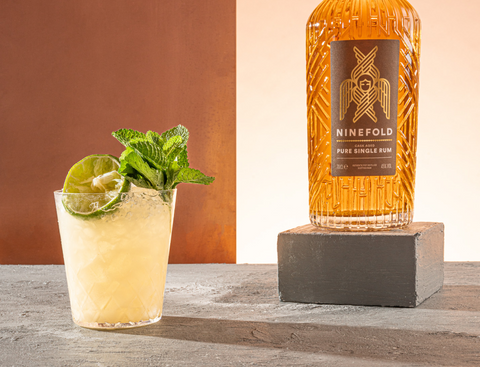 Inspiration behind the product
Having attracted a number of new fans to Ninefold with its single cask rums, the distillery wanted to offer consumers a consistently available aged expression of Ninefold rum. Filled and matured on-site at the distillery, Ninefold's Pure Single Rum is laid down in American standard barrels for at least one year to produce this deliciously sweet rum.
What makes it unique
With no chill-filtration, no colouring and with no sugar added, this is a richly flavoured, barrel-aged, scratch made Scottish rum that is proving to be a big hit with consumers.